Our range of
slatted pool covers
SUBMERGED POOL COVERS
FOR YOUR POOL IN THE VAR, MARITIME ALP REGIONS AND ANYWHERE IN THE WORLD
Most suitable for pools in construction, submerged pool covers are more aesthetic and discreet than above the ground automatic pool covers.

HOW A SUBMERGED POOL COVER WORKS
Submerged slatted pool covers resurface flush with the water thanks to the air filled slats. As they rise vertically, they push the others on the water's surface, which pushes the cover over the pool (the pool closes). When winding, the geared motor winds the cover around the winding shaft resolving any buoyancy issues.
Submerged pool covers are visually more attractive but they require masonry work.
OUR DIFFERENT TYPES

OF SUBMERGED SLATTED POOL COVERS
1. Traditional submerged slatted cover
Traditional submerged slatted pool covers are composed of an independent chamber built at the back of the pool. It is covered preferably in wood slating or grating depending on the customer's choice to allow easy access for maintenance and service. An above water beam is used to support the grating. This automatic pool cover system may be integrated into a pool with skimmers or an infinity pool (maximum three sides).
Independent masonry built chamber
Price range:€€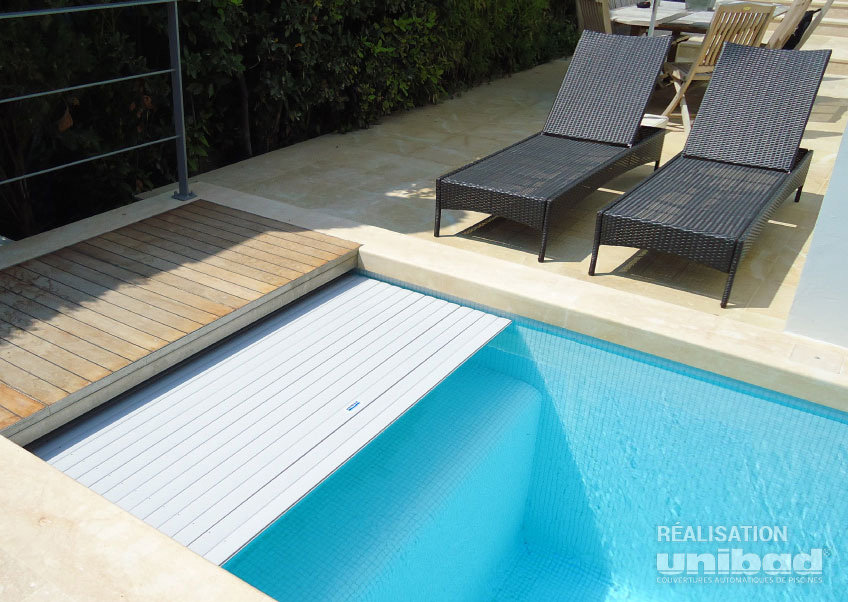 2. Inpool submerged slatted cover
Submerged slatted pool covers are placed in the existing volume of the pool and only necessitate light masonry work. You can choose an option to add a stainless steel bench on top of the winded cover (ideal in case of addition to an existing pool). They may be fitted to pools with skimmers or infinity pools.
In the existing pool volume
Price range:€€
3. Submerged guiding rail slatted pool covers
Guiding rail slated pool covers are a better alternative to traditional submerged pool covers: they are more advantageous for larger pools solving problems of deck raising due to beam thickness. The beam is partially submerged.
Guiding rail slatted pool covers always have a chamber independent of the pool to allow easy access, the cover resurfaces by adding guiding rails (reinforced fibreglass materials). This system may be fitted to pools with skimmers and infinity pools.
Guiding rails
Independent masonry built chamber
Price range:€€€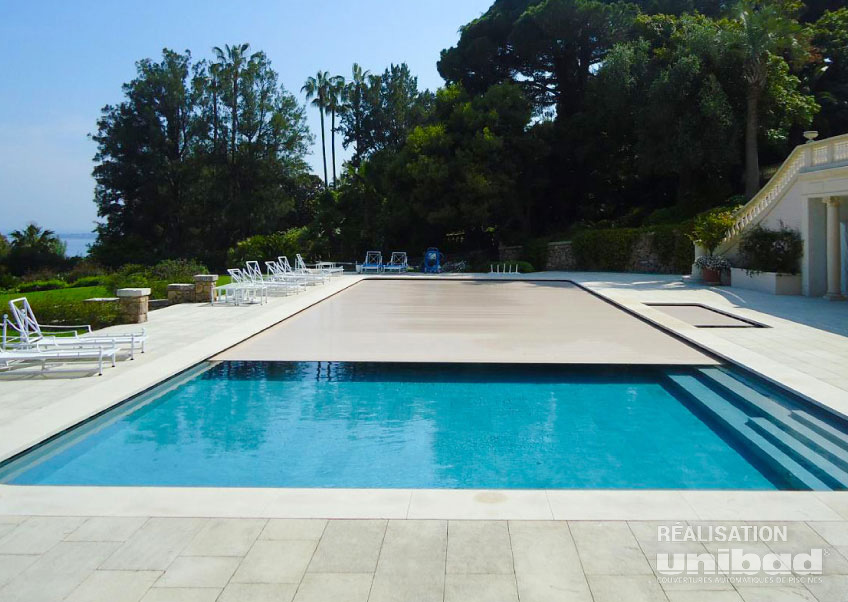 4. Deck submerged slatted pool covers
The state of the art in submerged pool covers with no visible beams or slating! An independent chamber is built and an entirely removable submerged deck closes the chamber.
The PVC slats are wound up under this beach (approximately to 15 to 20 cm of water above the deck), meaning that submerged pool covers are ideal to integrate in pool steps and have many integration possibilities.
The pool looks longer with a very attractive and aesthetic space ideal for relaxing, lounging and playing (perfect for young children, given the shallow water above the deck). The entire structure is removable for after sales service and maintenance. This system may be fitted to pools with skimmers and infinity pools (from one to four sides). Submerged deck pool covers are the most appreciated automatic pool cover systems by our prestigious customers and architects.
Mirror pool
Removable deck
Price range:€€€€
5. Pool floor sumberged slatted cover
Ideal for shorter swimming pools such as indoor pools, pool covers submerged in the pool floor are very interesting as they do not take up any space. The cover compartment is built into the bottom of the swimming pool. The cover rolls out from the bottom of the pool and naturally glides to the surface. This automatic pool cover requires slightly more maintenance and after sales services are more demanding (requiring divers or emptying the swimming pool). This system may be installed in pools with skimmers or infinity (mirror) pools.
Piscine miroir
Price range:€€€€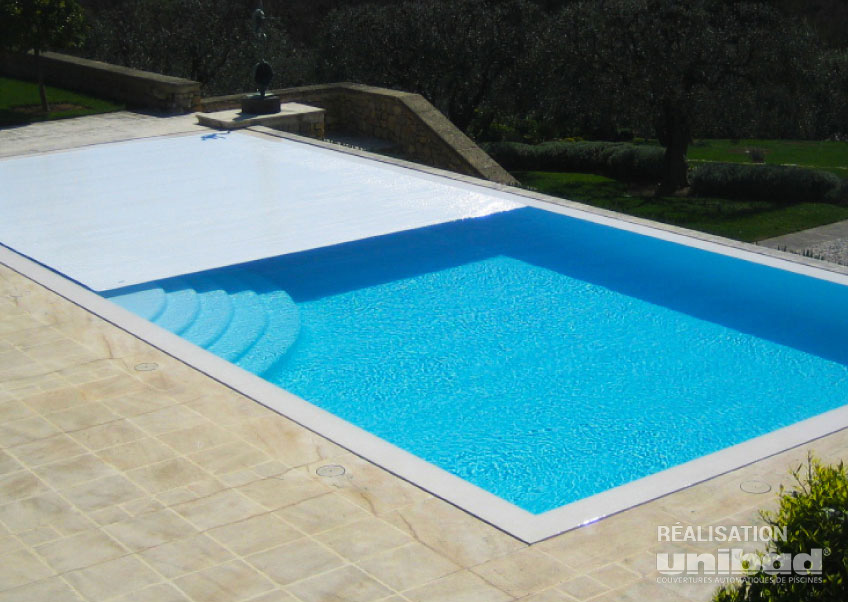 SEE OUR AUTOMATIC
SUBMERGED POOL COVER PROJECTS
SEE MORE