25 April 2023
INDOOR POOL: THE SHUTTER IS ESSENTIAL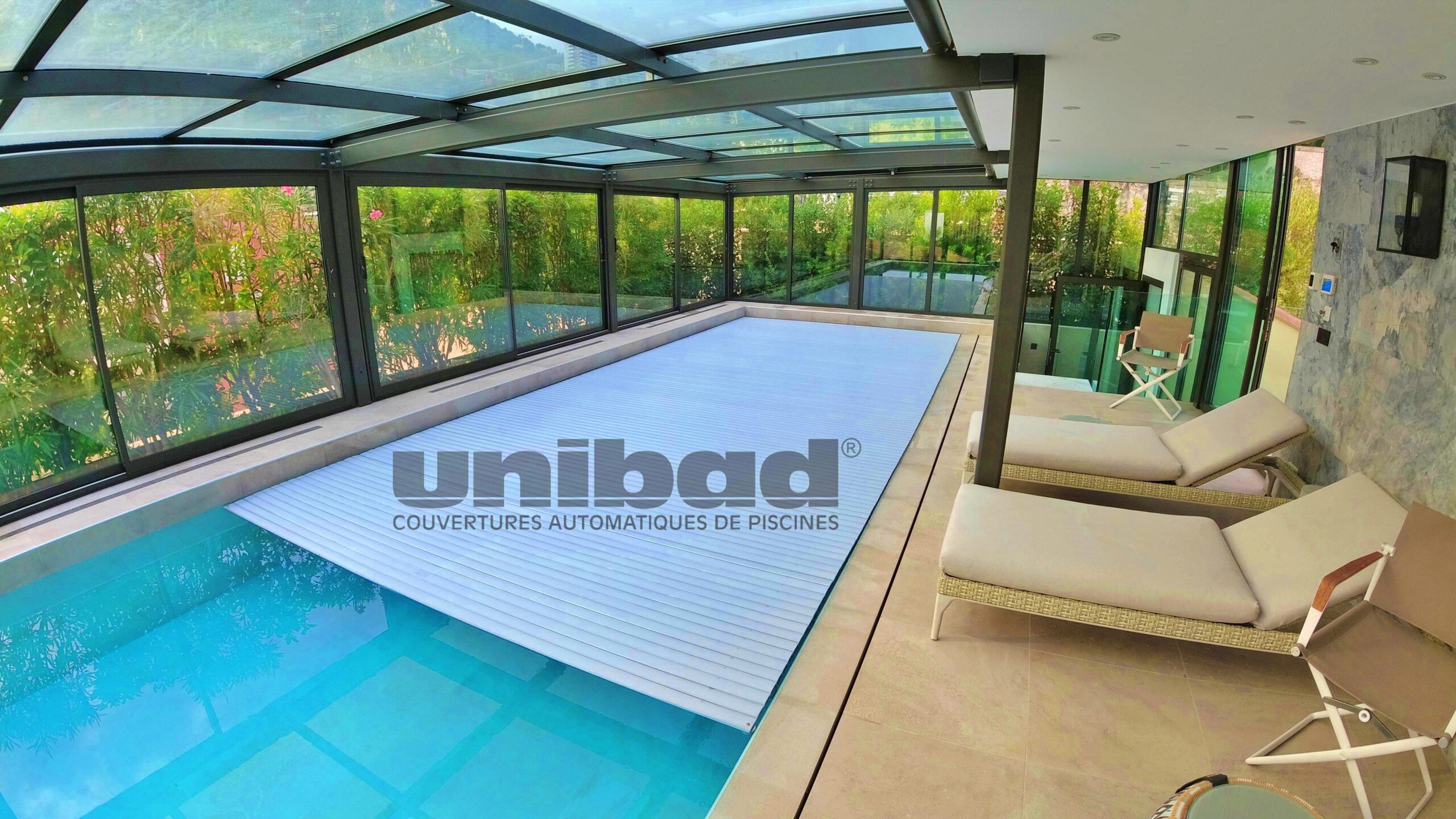 Protection of your pool surface, heat conservation, securing the pool, reduction of product consumption are all advantages that we attribute to the automatic pool cover. And when we talk about a swimming pool, we often think of the one we have in our garden…
What about indoor pools? We take stock with this short article which will reveal the advantages of a floating shutter.
It's decided ! You want to swim all year round without having to worry about the weather and you have taken the plunge by opting for the construction of an indoor swimming pool by overflow or with skimmers. Like any other swimming pool, it must receive a minimum of equipment in terms of filtration, water treatment, heating, etc. But unlike an outdoor pool, you will have to install a dehumidification device!
For optimal well-being, the humidity of your room should be between 60% and 70%, your water heated between 26° and 30° and your room just as much. Naturally, the water in swimming pools evaporates, but in indoor swimming pools this humidity is stored in the room with all its inconveniences (dripping walls and ceilings, peeling paint, proliferation of mould, corrosion of metal parts, etc.). Your dehumidifier will allow you to maintain a correct hygrometry and to do this it will have to operate constantly at full speed. Unless you call on Unibad and opt for the installation of an automatic shutter which will have the primary purpose of literally stopping this evaporation and will considerably reduce the use of your dehumidifier and therefore significant savings on your electricity bill.. The pool cover is a real asset that too many individuals and professionals ignore.
During construction or even after the completion of your work, we will offer you two specific types of winding:
– The submerged system which offers a discreet winding in the volume of the pool or in an independent shutter box.
– The above-ground system that allows quick installation without major work on your indoor pool.
And if you want to take advantage of the lighting of your swimming pool even with your automatic cover deployed on the water, we can advise you on installing a pool deck made up of translucent slats!
As you will have understood, the Unibad pool cover is the ideal asset for covering your outdoor pool, but it is even more important than you might think for an indoor pool! Find some of our achievements which will give you an overview of our know-how and the high quality of the product that we have been installing since 1967 !
And if you want even more inspiration, our networks are there to give you an idea of an authentic manufacturer of automatic pool covers on the French Riviera. You will find us on Pinterest, Instagram or Facebook.
Want to see our facilities in operation? Visit our YouTube channel.
To contact us, nothing could be simpler, just write to us using our online form here or call us on +0033 (0)4 92 92 17 00.