7 February 2020
Automatic pool cover, UNIBAD guarantees you excellence!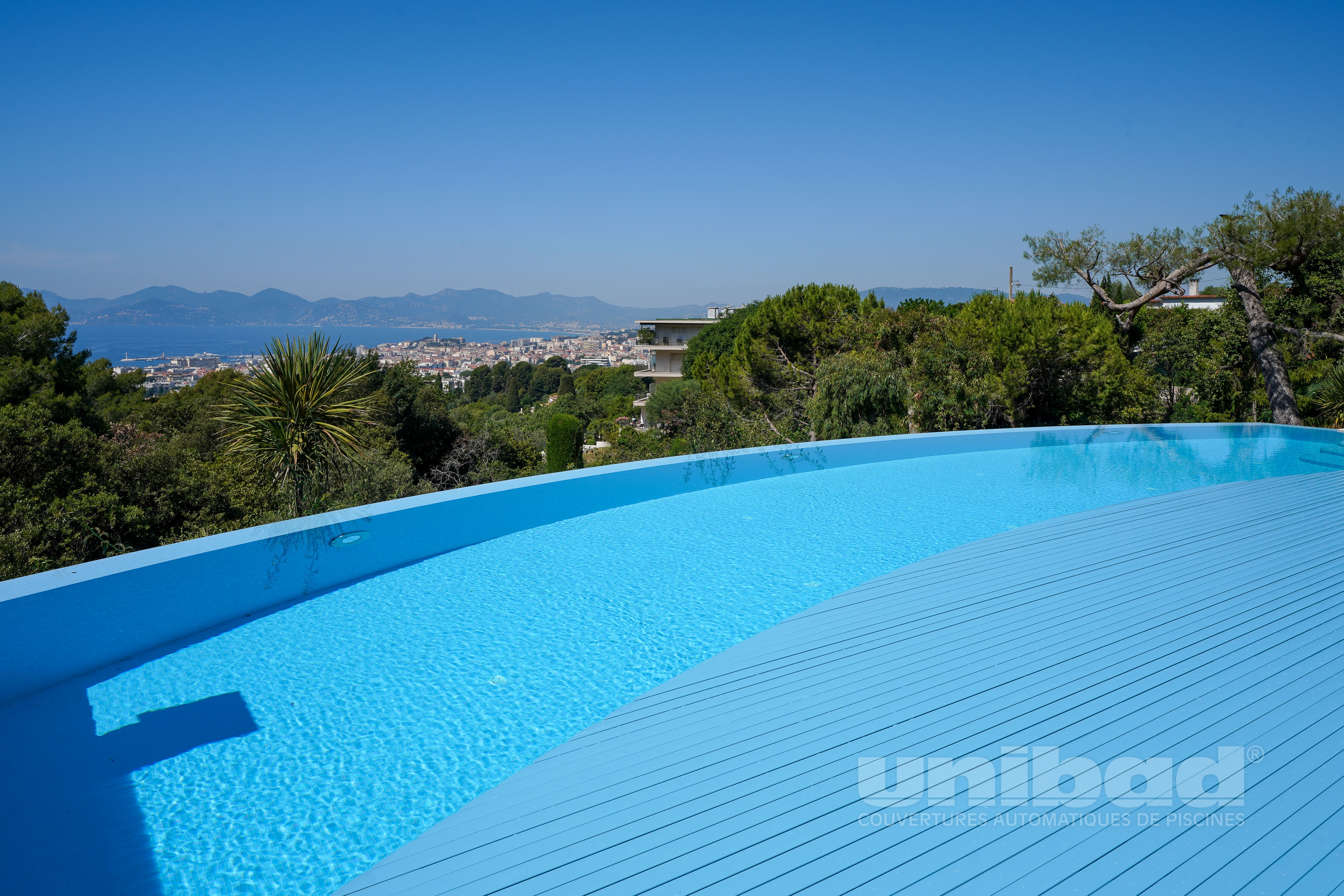 Automatic pool cover, UNIBAD guarantees you excellence!
Challenge achieved for this automatic pool cover at the bottom of the pool.
An exceptional installation by Unibad for this installation which uses a stainless reel axis more than 13m long and submerged at 2.50m deep! The curtain of this pool has been placed under a stainless steel tiled floor similar to the swimming pool. The shutter is cut entirely manually and adapt to the shape of the pool perfectly.
A gorgeous result for this overflowing swimming pool which dominate the bays of Saint-Tropez and Ramatuelle.
Watch the video of this unique installation on our Facebook account and our  : YouTube channel
Located in the French Riviera since 1982, we have been manufacturing automatic pool covers since 1967.
We have developed all of our pool covers with high-quality raw materials (bronze, stainless steel, polycarbonate, etc.). They are manufactured in our factory in Mouans-Sartoux. During the entire process from the engineering study to the manufacturing and installation, we supply you with all our expertise to accomplish your pool cover projects anywhere in the world. Our responsive and available trilingual sales team (French, English and German), is at your disposal throughout your entire project.
Discover our installations on the French Riviera and throught the world . >> http://www.unibad.com/en/pools-cover-construction-and-projects/
Unibad offers two types of top range automatic covers for your pool and a range of slat colours. >> http://www.unibad.com/en/automatic-cover-range-pools-cover/
Please do not hesitate to contact us via our contact sheet for any information you may require. Our sales team will answer you as soon as possible.
>> http://www.unibad.com/en/contact/