25 July 2020
Poll cover, luxury to the end of the equipment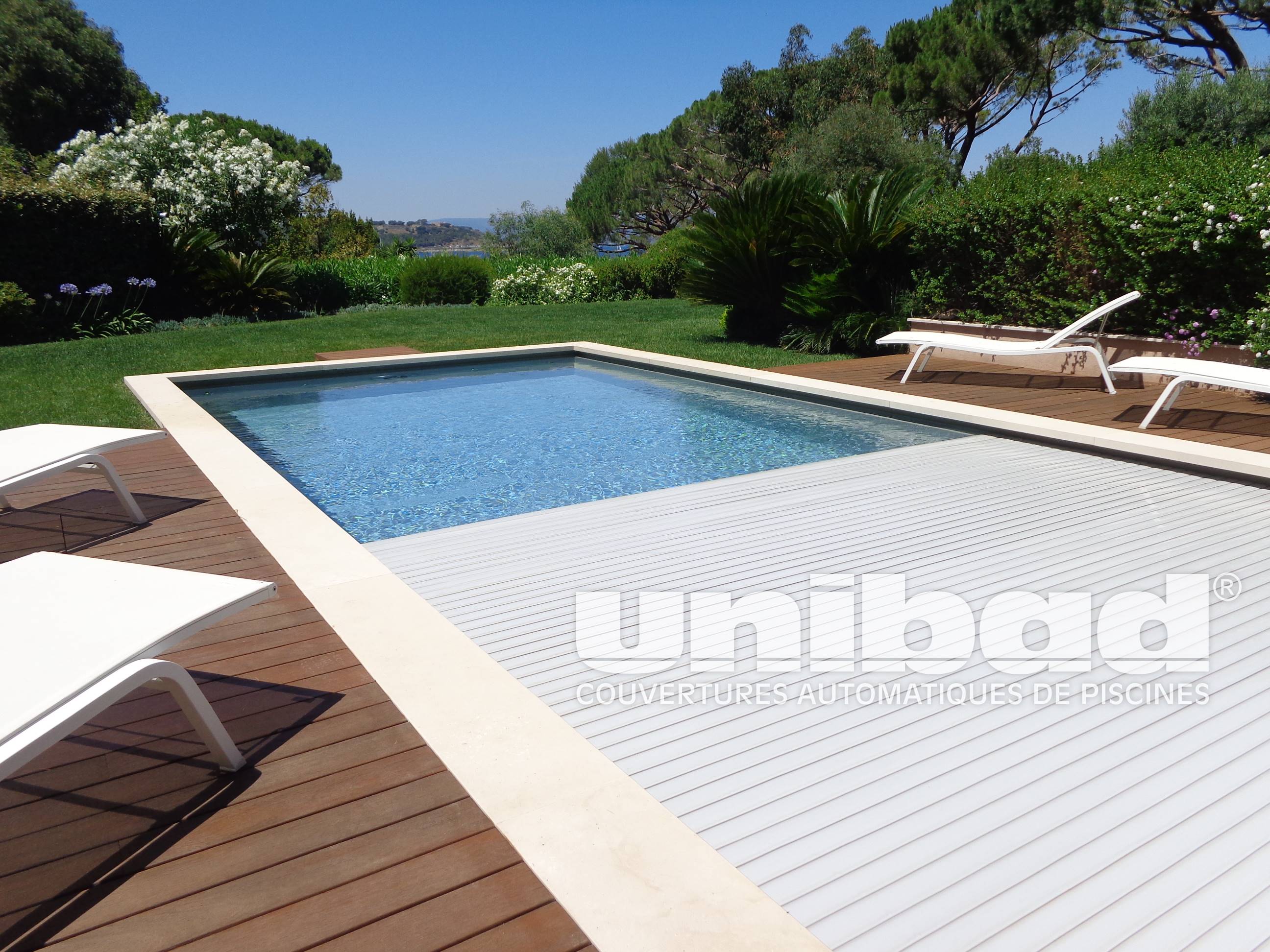 An exceptional swimming pool deserves a luxurious automatic cover UNIBAD
Discover this achievement in Cannes, where the 4m x 20m swimming pool overlooks the Lérins Islands and serves as a swimming lane.
This 20m long swimming lane is equipped with an automatic cover placed at the bottom of the pool.
The customer did not want to waste space for the shutter tray in order to take full advantage of the entire swimming length, our team installed the stainless steel reel shaft at a depth of more than 2.50m.
Thus, the cover rolls up under the bottom of the pool in a box, covered by a system of removable stainless steel frames and receiving the same tiling as the pool for an impeccable aesthetic rendering.
The motorization placed in the technical room of the swimming pool uses a bronze and stainless steel wall crossing.
Thanks to their perfect seal and flotation, the slats naturally rise to the surface to cover the pool. The slats assembled by individual nailing of the profiles allow perfect maintenance of the slats and easy maintenance over time.
This isothermal cover with pearl gray PVC slats reduces heat loss and protects water from dirt (pine needles, leaves, dust, etc.).
This type of curtain can be made in a polycarbonate solar version in order to naturally heat the swimming pool, to save the electricity for the pool heating and also to extend the swimming season.
This type of installation, with a very high water line (about 3cm under coping) is also adaptable to an overflow swimming pool and also to a mirror swimming pool!
For more than 53 years, luxury automatic covers, unmatched expertise and know-how for your automatic pool cover projects, in the Var, the Alpes-Maritimes and through the world.
We propose 2 types of automatic pool covers: submerged slatted pool cover or above-ground slatted pool cover.
For any request for information or study, do not hesitate to contact us.