17 September 2020
A UNIBAD automatic swimming pool cover to keep calm…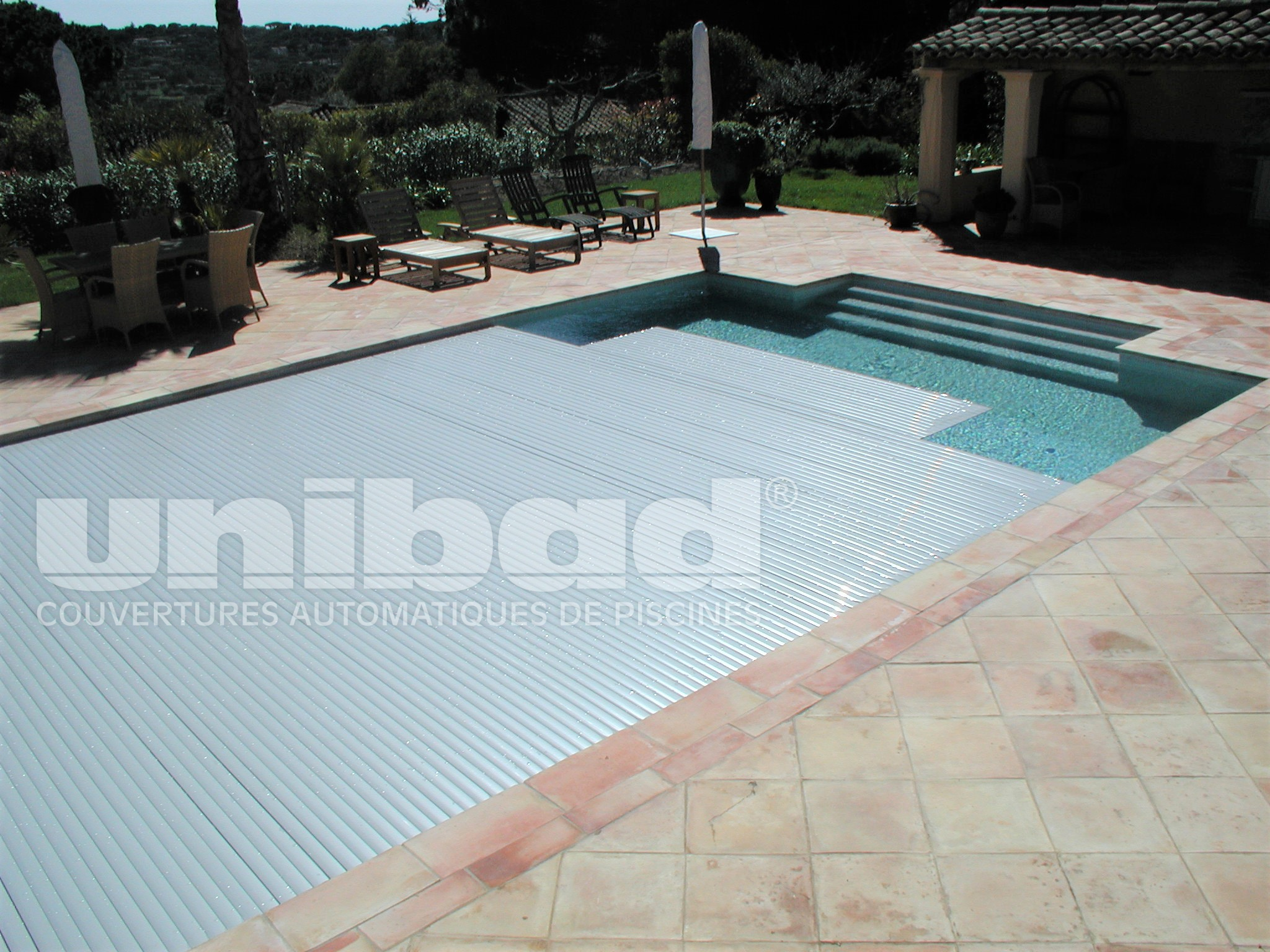 A UNIBAD automatic swimming pool cover to keep calm…
You have young children, you keep your grandchildren… and are you worried about the risk of an accident ?
To secure your pool, UNIBAD offers you high-quality, "tailor-made" pool covers.
This type of pool protection is the most reliable way to secure your pool and offers full advantages .
So you can enjoy your outdoor space in the presence of your children.
On this installation, UNIBAD automatic shutter is installed as a submerged system on a skimmers pool.
The structure of the beach is made of marine quality stainless steel allowing to receive the same coating as the swimming pool (tiling, coating, polyester etc.) for a perfect visual integration. The box is accessible for the care and maintenance of your cover.
Furthermore, the shutter box serves both as a compartment for winding up the slats of your cover but also as an immersed bench seat keeping a very high thread of water (about 3cm under the  curbstone). This submerged bench offers you a space of relaxation and conviviality where you can tan and relax in the water.
This type of isothermal shutter is perfect to keep warm when the nights become cool and essential when you use a heat pump.
The 6 strong points of your automatic pool cover:
Best security.
Protection against external pollution (leaves, dust, plant debris, insects …) and the proliferation of algae.
Easy, fast and secure handling.
Maintaining the warmth of the water and an extended swimming season.
A wide choice of colors slats which adapt to your environment and your outdoor layout.
Savings in water treatment products.
For more than 53 years, UNIBAD has guaranteed you, expertise and knowledge for your automatic pool cover projects, in the Var, the Alpes-Maritimes and through the world.
Discover our latest achievements. 
We propose 2 types of automatic pool covers: submerged slatted pool cover or above-ground slatted pool cover.
For any request for information or study, do not hesitate to contact us.