15 September 2022
A "TAILOR-MADE" LUXURY AUTOMATIC COVER FOR PERFECT CONSERVATION OF THE HEAT OF YOUR OVERFLOWING POOL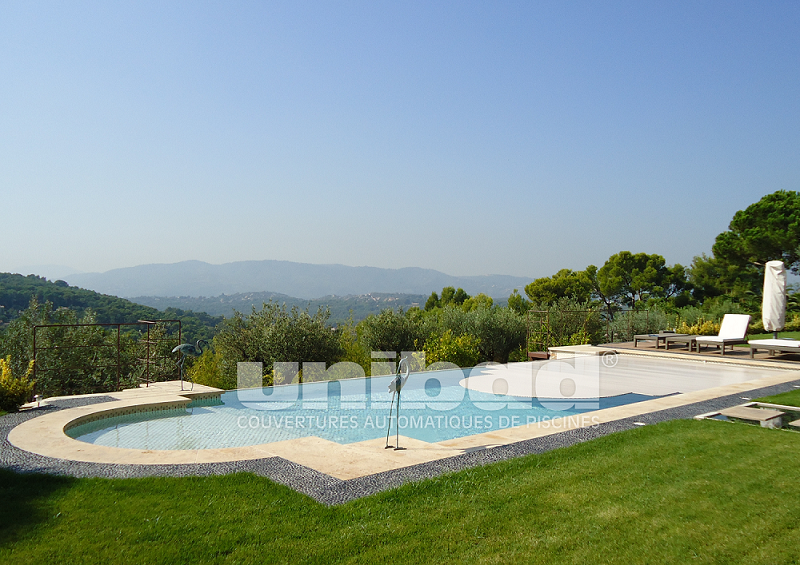 For this magnificent infinity pool over the length, 5 meters wide by 15 meters long, located in Mougins, on the French Riviera, UNIBAD has produced and installed an automatic swimming pool cover in an underwater system submerged beach with conveyor rails.
Here the cutting of the shaped shutter allows it to perfectly match the Romanesque staircase. The color of the automatic cover mixes perfectly with the aesthetics of the edge.
Moreover, this curtain system on an overflowing swimming pool allows a strong reduction in heat loss.
Finally, the isothermal cover guaranteed perfect heat retention, to extend bathing time and enjoy your pool longer even when the nights are cool.
"UNIBAD ®Manufacturer of Automatic Swimming Pool Covers for 3 generations: 1967 in Germany and 1982 in France".
Two types of automatic swimming pool covers are available: the submerged swimming pool cover or the above-ground swimming pool cover.

Discover our types of covers.
Discover our latest achievements of UNIBAD.
Watch a video of our installations.

You have a question, you want clear and precise information or a study for your swimming pool cover project, do not hesitate to contact us.